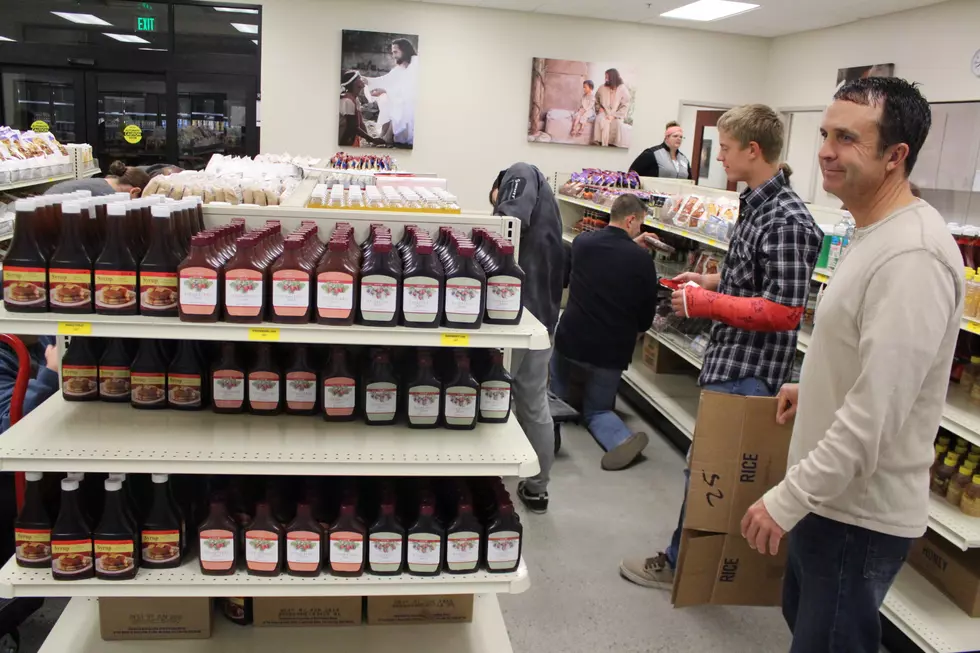 LDS Storehouse Serves Local Church Members, Others
Photo by Andrew Weeks
TWIN FALLS, Idaho (KLIX) – Teens and leaders from a local LDS congregation showed up at the Bishop's Storehouse, just as members do every Tuesday evening, to restock shelves and freezers.
They weren't paid for the work they did. Service is its own reward, according to The Church of Jesus Christ of Latter-day Saints, which owns and operates the storehouse at 1675 Mountain View Drive.
The 14,500 square-foot building held a dedication and grand opening on Aug. 27 and is open twice a week. The storehouse serves eight stakes and 73 wards and branches. Prior to its opening, the only bishop's storehouse in the valley was one located in Burley.
It is quality food," Ray Parrish, public affairs representative for the LDS Church, says about the Home Storage Center, "and at reasonable cost.
Its purpose is to provide food and other commodities to LDS members who are ill, unemployed, or widowed and need assistance. But right next door there's another function of the building that is open to the public – the Home Storage Center. Community members can come here to purchase food staples such as canned beans, flour, rice, sugar and dried fruit slices, among many other items.
"It is quality food and at reasonable cost," said Ray Parrish, local public affairs representative for the LDS Church. And because the food is packaged for long-term storage, the shelf life of the products is 30 years.
So far, he said, not many people have taken advantage of the Home Storage Center. A couple of reasons may be the cause: people may not know the facility has opened in Twin Falls; and those who have seen the white and brown brick building, located northwest of the temple near Eastland Drive and Pole Line Road, may not realize that half of it is open to the public.
Purpose of the Storehouse
The history of the Bishop's Storehouse stretches back to May 20, 1831, when Mormon founder Joseph Smith claimed to have received a revelation in Thompson, Ohio, directing him to establish a communal store for needy members of the church.
"And again, let the bishop appoint a storehouse unto this church; and let all things both in money and in meat, which are more than is needful for the wants of this people, be kept in the hands of the bishop," reads an entry in the church's Doctrine and Covenants.
Modern storehouses are stocked with food supplied from church-owned orchards and farms, including one in nearby Kimberly. Processing facilities in Salt Lake City prepare, package, and ship items to storehouses across the country. Some items are from national brands.
The church doesn't want to give people a handout," Parrish says, "but a hand up.
The church teaches members to be self-reliant, but they are not immune from hardship. Some members find themselves ill or unemployed and without the means to provide necessities. This is where the welfare program of the church steps in, but members must first meet with their bishop to determine need and see if they qualify to shop at the storehouse. Non-members may also qualify, but they too must meet with the bishop assigned to their area.
"The church doesn't want to give people a handout, but a hand up," Parrish said.
If a family is in need of help but may have several smartphones in the home or is driving an expensive vehicle, for instance, the bishop will counsel with the family on what they can do to cut down on unneeded expenses. It may be downsizing their data plans or trading their vehicle for one without such a high monthly payment.
Parrish said the whole purpose of both the counsel and assistance is to help people get back on their feet. In essence, what are they doing to improve their situation?
When a bishop approves a family to shop at the storehouse, they will meet with a Relief Society president and receive a voucher and a list of available items. They take the voucher to the storehouse and shop for the goods without having to pay for them.
The storehouse is packed with canned food, frozen meat, fresh produce, boxed cereal, jellies and jams, cooking oils, syrup, breakfast mixes, toilet paper, diapers, toothpaste and more than 100 other items you'd find in a regular grocery store, only here most of the products are church produced.
Only those who've met their bishop and Relief Society president, and have paperwork to prove it, can shop at the Bishop's Storehouse. On the other hand – or in this case, on the other side of the building – anyone can shop at the Home Storage Center.
Hours are 11 a.m. to 7 p.m. on Wednesdays and 9 a.m. to noon on Saturdays.
A Teaching Moment
Before the volunteers received their assignments on Tuesday night they were instructed on the mission and purpose of the storehouse and what they would be doing that evening. A prayer was offered and then a short tour of the building commenced. They saw the store, warehouse, and walk-in refrigerators and freezers.
They were reminded about the donations of tithing and fast offerings that help provide the means for the storehouse, and the importance of service. They also were taught a little about the uniqueness of the building.
Parrish said when the church builds a facility it often creates extra space and designs it in such a way that it'd be easy to expand.
I am most impressed by who we actually represent here. That is our Savior Jesus Christ," says Elder Kevin Stanger. "We hope that we would treat people as he would have them be treated.
A couple of significant features of the Twin Falls building are the east walls, which are constructed with potential slots for warehouse doors and that would make the facility easy to expand; and there's enough room in the warehouse to store foodstuffs for other local church and community groups. The current facility could one day be used as a church distribution center.
One question that people have asked, Parrish said, is why the building faces south? The answer is for safety reasons: there will be little to no ice accumulation at the entrance during winter.
"The church is always thinking ahead," he said.
Once they received their assignments, the teens and their leaders went to their tasks with gusto, stocking shelves and freezers. Most of the products were imprinted with the church's "Deseret" logo.
But why is there a shelf of Raisin Bran cereal in the storehouse?
Because the church owns several grape orchards and Kellogg's buys these grapes to include in its national brand.
Starting Your Storage
Throughout its history the LDS Church has looked forward to and anticipates the day when history as we know it will change and the second coming of Jesus Christ will occur. Since its early days it has encouraged members to secure a year's worth of food, emergency, hygienic and other items.
Traditionally, it was so that members could sustain themselves and their families in the event of a national disaster. But another reason is so that members can be better prepared for life's commonalities such as economic hardship and illness and other unforeseen challenges.
Parrish said church leaders know, however, that not everyone has the means or space to stock a whole year's supply of food and other necessities. But members should at least be doing something, he said, noting it also is good practice for people not of the LDS faith.
"The whole idea of the Home Storage Center is to give our community a starting point," he said.
Parrish said a good goal to have is to start working toward garnering a month's supply and grow it from there as you're able. Start with a week, then two weeks and so forth. As part of temporal preparedness, the church also encourages members to avoid debt, pay their tithes and offerings, grow gardens, and find opportunities to serve others.
Lending a Helping Hand
The idea of giving people a hand up instead of a handout is so that those receiving the service can retain their self-respect. Parrish said the church believes that is the right way to do things. It willingly gives assistance, but doesn't shirk a person or family's responsibility to try to improve their situation.
Each person is evaluated by their bishop to see how long they might need assistance from the storehouse. Usually it's at least a couple of months, he said. Each voucher provides enough food to last a family about two weeks.
Elder Kevin Stanger, a church service missionary who volunteers with his wife at the storehouse, said on Tuesday that the mission of the storehouse falls in line with Christ's teachings to help others.
"I am most impressed by who we actually represent here. That is our Savior Jesus Christ," he said. "We hope that we would treat people as he would have them be treated."
Stanger referenced the many pieces of art that decorate the walls – paintings and pictures that depict Christ serving others, and old black-and-white photos from the early days of the church's welfare efforts. They remind volunteers and patrons alike that giving and receiving service is part of the Christian life.
"The pictures certainly show how people should be treated," Stanger said. "It's such a blessing to be able to give to others, and that's what Christ did his whole life."
More From News Radio 1310 KLIX