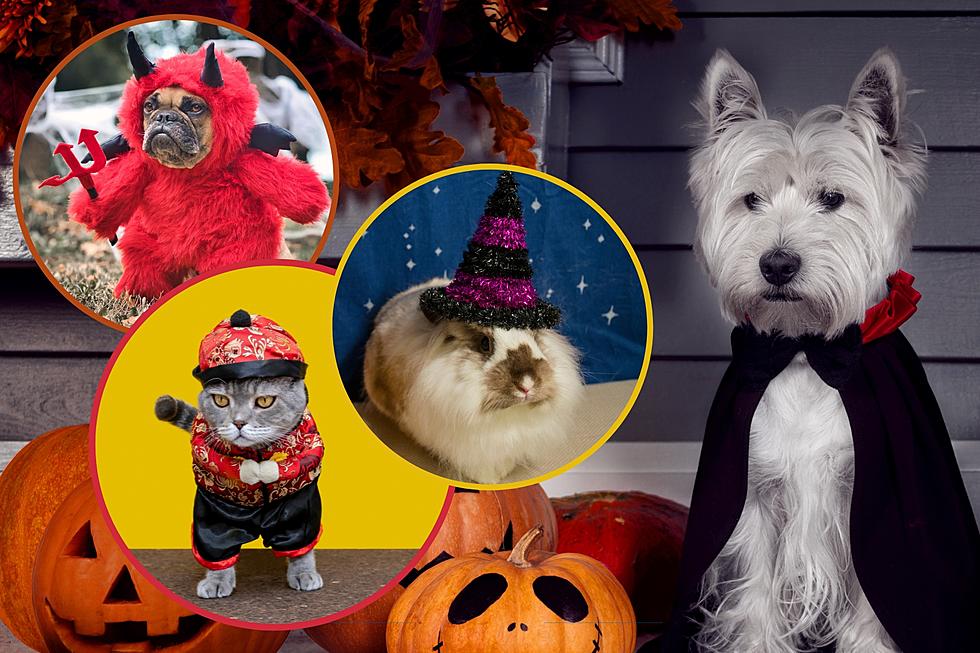 How to Enter the Valley View Vet Halloween Pet Photo Contest
Credit Canva Pro
UPDATE: The time to submit entries has ended. You can now vote for your favorite each day from November 9th through November 15th, 2023.
If you have pets, you probably dress them up in costumes, and not just on Halloween. Get us a good picture of your pet in a costume and you could win one of three great prizes in the Valley View Veterinary Clinic Halloween Pet Photo contest.
2023 Halloween Pet Photo Contest
We want to see your pets in adorable costumes, scary costumes, homemade or store-bought - and we want to see all types of pets! It doesn't matter if your pet is a horse, dog, cat, or rockchuck, the important thing is that you get a good picture of them in a costume and you get that picture to us.
ENTER: Show Off Your Pets in Halloween Costumes and Win Prizes
Remember, this is a photo contest so make sure your picture isn't blurry and doesn't have people in it. We are sure you and your kids are adorable too, but don't put them in the photo. Enter the contest by submitting a photo through our mobile app and you could be one of the three winners in the Valley View Veterinary Clinic Halloween Pet Photo Contest:
1st place wins Two (2) $100 Valleywide Co-op gift cards
2nd place wins One (1) $100 Valleywide Co-op gift card
3rd place wins One (1) $50 Rock Creek Restaurant gift certificate
Halloween Pet Photo Contest Rules
Submit your photo using the "Submit Media" tool on our radio station app.
Please include the pet's name and the owner's name.
Only JPG files are allowed for submission.
The deadline to enter the contest is 11:59 PM MST on November 8, 2023.
Finalists will be posted on our website for voting to begin November 9, 2023 and ending on November 15, 2023 at 11:59 PM MST. The winner will be announced on November 16, 2023.
To schedule an appointment for your small animal, bovine, equine, or other animals, call Valley View Veterinary Clinic at 208-734-7966. A mixed animal clinic, they spend about half of their time working on dogs and cats and the rest on cattle (beef and dairy), horses, elk, alpacas, goats, pigs, sheep, and bison. They provide general, affordable veterinary care for both small and large animals.
*Prize redemption is subject terms and conditions determined by our prize partners. Winner may review all terms and conditions upon receipt of certificates.
For inspiration, check out the gallery of finalists in the Summer Photo Contest we held earlier this year, and keep reading for the contest rules regarding acceptable photo file types and entry and voting dates.
2023 Summer Pet Photo Contest Finalists
Check out these amazing pictures and then vote for your favorite below.
Gallery Credit: Credit N8
LOOK: The most popular dog names of 2022 in every state
Hey dog lovers, check out this awesome list of the most popular dog names in 2022 for every state, and get ready for some serious cuteness overload.
Gallery Credit: Amber Spencer-Knowles
More From News Radio 1310 KLIX