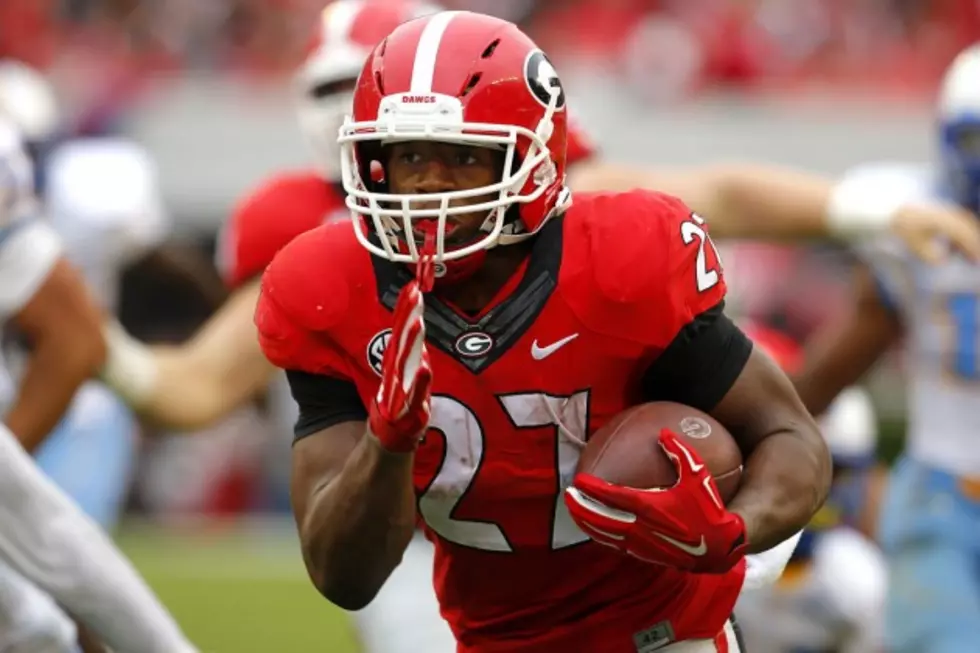 College Football Week 5 Preview – Can Georgia, Florida Tilt the SEC's Balance of Power?
Todd Kirkland/Getty Images
Now the fun begins. With September's slate of sad non-conference games behind us, now we get to the good stuff with a full schedule of conference match ups and several games between ranked teams. Here are some of the big questions this week in college football.
Will We See a Changing of the Guard in the SEC?
In recent years, the SEC East has really been an afterthought to the battle for conference supremacy. But Alabama's loss to Ole Miss and Auburn's disappointing start have placed the conference up for grabs. Mark Richt is in his 15th season at Georgia, and while some of his past teams have underperformed relative to expectations, this could be the most complete team he's had.
If it weren't for Leonard Fournette (more on him in a minute), Georgia's Nick Chubb would be a Heisman front-runner right now. He's currently riding a 12-game streak of 100-plus-yard games, tying him for the school record with Herschel Walker.
He'll have a tough task against a Crimson Tide defense that is giving up fewer than 57 rushing yards per game (fourth nationally). But he'll be complemented by quarterback Greyson Lambert -- who is completing over 76 percent of his passes and has yet to throw an interception this year -- and a defense that ranks in the top 25 in most major categories.
To be sure, Georgia has not faced great competition, and until someone proves otherwise, Alabama is still Alabama. But Vegas has the Crimson Tide as an underdog for the first time since 2009, and with a Georgia win (along with what happens in the Florida vs. Ole Miss game), we could be seeing the beginning of a shift in the SEC's balance of power. I'm not saying the East is going to dominate, but for the first time in years it might be able to compete.
Will the Luck of the Irish Run Out?
No. 6 Notre Dame has overcome a freakish number of injuries en route to its 4–0 start. The Fighting Irish have already lost six players — including their starting quarterback, running back, tight end and nose tackle — for the season and have a couple more riding the bench with other ailments. Partially because of those injuries, at this point it's hard to judge how good Notre Dame really is. They blew out Texas (before the Longhorns changed their offensive coordinator and quarterback) and UMass, but needed a last-minute comeback at Virginia.
The win over then–No. 14 Georgia Tech looked good at the time, but back-to-back losses by the Yellow Jackets have tarnished that a bit.
But this week we'll get some insight into Notre Dame true quality, as they head to No. 12 Clemson. The Tigers have been led by Brent Venables' defense, which is holding opponents to less than 261 yards and 12.3 points per game (both in the top 10 nationally). Notre Dame quarterback DeShone Kizer has completed two-thirds of his passes this season, but he's getting ready for the toughest test of his young career against a hostile crowd on Saturday night. If the Irish can pass this road test, their schedule the rest of the way is very manageable, with only two games against ranked opponents (vs. No. 17 USC and at No. 18 Stanford). If the luck of the Irish can get them through this weekend unscathed, Notre Dame could be looking at something special.
Will Leonard Fournette Cause the NCAA to Implement a Mercy Rule?
LSU's star running back is the nation's leading rusher at over 210 yards per game, more than 41 yards ahead of his closest competitor. He's the first Tiger in history to rush for 200+ yards in consecutive games.
Someone, somewhere may figure out how to slow him down, but I really doubt it'll be LSU's Week 5 opponent, Eastern Michigan, which ranks last in the nation in rush defense. This could get ugly fast.
Who Wins the Hot-Seat Bowl?
Coming into the season, Arkansas and Tennessee fans were justifiably optimistic: not "national title" optimistic but more of the "this is the year we finally get things back on the right track and compete" persuasion. But both teams could take another big step back toward mediocrity in this battle to keep hope alive.
Tennessee (2–2) has suffered two heartbreaking losses, choking away a 17-point lead before losing in overtime to Oklahoma and last week's meltdown against Florida, in which the Gators scored twice in the game's final five minutes to secure their 11th straight win over the Volunteers.
In Arkansas (1–3), meanwhile, a three-game losing streak (starting with a home loss to Toledo) has the Razorback faithful seeing red. And Bert Bielema's constant insistence on sticking his foot in his mouth isn't helping.
The winner of this game can at least hope to salvage a bit of dignity. The losing coach will have a nice hot seat to keep him warm in the cool fall nights to come.
Can West Virginia Make a Run in the Big 12?
At the beginning of the season, all the talk in Big 12 country centered on Baylor and TCU. Then Oklahoma came back at Tennessee and worked itself into the mix. Meanwhile, West Virginia is quietly getting it done in the most unusual of ways: in a league known for up-tempo spread offenses and high-octane shootouts, the Mountaineers lead the nation in scoring defense (7.7 ppg) and turnover margin (+9). While those gaudy stats haven't come against great competition (Georgia Southern, Liberty and Maryland), it has added a new dynamic to the Big 12 race.
So, are the No. 23 Mountaineers legitimate conference contenders? We'll find out very soon, as WVU is about to hit the Murderer's Row section of its schedule with October games at No. 15 Oklahoma, vs. No 20 Oklahoma State, at No. 5 Baylor, and at No. 4 TCU. It doesn't get much more brutal than that. If the Mountaineers are still in contention at the end of that run, they'll have earned every bit of title talk they get.
More From News Radio 1310 KLIX