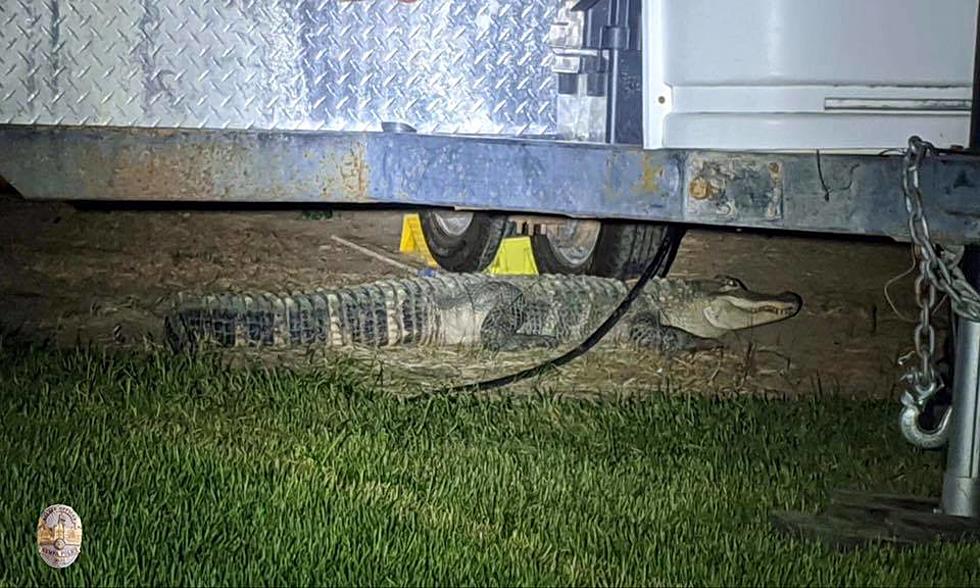 Remember When Cops in Idaho Wrestled an Alligator?
Courtesy Nampa P.D.

I need to call Nampa Police and tell them that Spike got out of the car and ran away while I was shopping.  I was warned.  I wasn't supposed to leave him inside the car in hot weather.  But he's a wee bit on the ornery side and the last time I left him at home he ate the cat.  In Cold blood!
He's easy to spot.  Scaly skin, short legs, and a long tail.
All joking aside, as you can see in the above Facebook post, alligators aren't common in Nampa but possibly Tampa.  Nampa Police and Idaho Fish and Game managed to capture one that was taking refuge beneath what looked to be a tractor-trailer.  If you're still with us, this happened three years ago this month.  It wasn't recent.  But it does show you that law enforcement is never routine.  Friends that patrol the roads and streets used to tell me that news stories referencing "routine" stops were always factually wrong.
As some of you know, there are people who legally keep alligators in Hagerman, but I don't believe the case in Nampa was ever closed.
I'm reminded of a story I heard from the staff at the Twin Falls County Fair.  A fellow brought an alligator exhibit to the fair one year, and after the event ended, he was packing up and ready for home.  A woman showed up in a pickup truck.  She had a gator in the bed of the truck and wanted to give it to him.  It had grown so large, she no longer could properly care for the animal.
We shouldn't be surprised when large reptiles sometimes get abandoned in Idaho.  They tend to bite the hands that feed them.
Best Looking State Patrol Cars In (Almost) Every State
For the past 10 years, the American Association of State Troopers has held a contest to determine which state has the best looking patrol cruiser. Nearly every state police agency submits their best photo of their sharpest patrol vehicle a chance to win the coveted cover photo on the association's annual calendar. From cop cars rushing through blizzards to vehicles on the Grand Ole Opry stage, here are this year's nominees.
More From News Radio 1310 KLIX