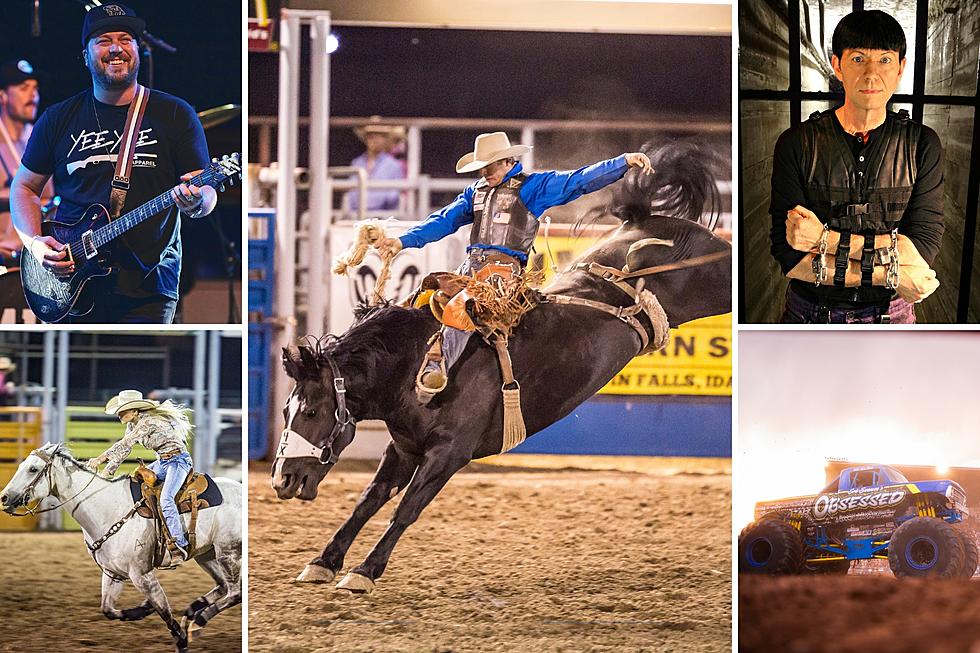 The 2023 Twin Falls County Fair and Rodeo Event Schedule
Credit Canva/Twin Falls County Fair
Get ready for big-time fun at the 2023 Twin Falls County Fair and Magic Valley Stampede Rodeo. This year will include a junior rodeo along with the PRCA rodeo, monster trucks, live music concerts, magic shows, farm animals, and carnival rides.
When is the Twin Falls County Fair and Rodeo
The fair will run from August 30th through September 4th, 2023. The theme this year is 'Kids, Critters, and Cowboys'. Fair hours are 7 AM to 11 PM on Wednesday and Thursday, 7 AM to Midnight on Friday, Saturday, and Sunday, and 7 AM to 9 PM on Monday. Scroll to the bottom to win tickets to the grandstand events!
Event Schedule for the Twin Falls County Fair
These are the events happening in the grandstand at the Twin Falls County Fair:
There will also be free events at various times around the fairgrounds during the fair. They include:
Michael Mezmer TranceNosis on the Community Stage
Carnival Kiddie Land Petting Zoo and Pony Rides
Jeff Martin Magician at the Farm Bureau Ag Pavilion and strolling around the fairgrounds
Live music from Cale Moon at the Community Stage and the Chicks n Chaps event
The Mighty Thomas Carnival will also be open during the fair in the afternoons until closing time.
How Much Does It Cost To Go To The Twin Falls Fair
There are a variety of shows and events that cost different prices depending on what you want. Advanced sale event tickets include fair admission, otherwise, event prices are in addition to fair admission. Full details are also on the TF Fair website:
Adult fair admission is $7 in advance and $9 at the gate. Children aged 6-12 are $5 and under 5 are free.
Junior Rodeo is free with fair admission
PRCA Rodeo on Thursday or Friday is $12 for reserved seats and $9 for general admission
PRCA Rodeo Saturday $15 for reserved seats and $12 for general admission
Mitchell Tenpenny Concert on Sunday. Reserved seats are $26 and general admission is $23.
Monster Trucks tickets on Monday are $22 for adults, $16 for kids, and $40 for VIPs
Here's your chance to get into the fair and the grandstand events for free. You can enter all the contests or as many as you want:
CONTESTS HAVE ENDED - WINNERS ANNOUNCED:
| | |
| --- | --- |
| ANY DAY FAIR TICKETS | Keri Carter |
| JR RODEO AND FAIR TICKETS | Eloy Guadarrama |
| JR RODEO AND FAIR TICKETS | Melanie Winson |
| JR RODEO AND FAIR TICKETS | Ethan Smith |
| JR RODEO AND FAIR TICKETS | Michael Howell |
| THURSDAY - RESERVED SEATS RODEO AND FAIR TICKETS | Timothy |
| THURSDAY - GENERAL ADMISSION RODEO AND FAIR TICKETS | Stephanie Helsley |
| THURSDAY - GENERAL ADMISSION RODEO AND FAIR TICKETS | Rebecca Christensen |
| THURSDAY - GENERAL ADMISSION RODEO AND FAIR TICKETS | Joanna Wood |
| THURSDAY - GENERAL ADMISSION RODEO AND FAIR TICKETS | Lorrie Van Tassel |
| FRIDAY - RESERVED SEATS RODEO AND FAIR TICKETS | Bobby Hainline |
| FRIDAY - RESERVED SEATS RODEO AND FAIR TICKETS | Bobby Silvaz |
| FRIDAY - GENERAL ADMISSION RODEO AND FAIR TICKETS | Melissa Gonterman |
| FRIDAY - GENERAL ADMISSION RODEO AND FAIR TICKETS | Danielle Burgett |
| FRIDAY - GENERAL ADMISSION RODEO AND FAIR TICKETS | Nayeli Leal |
| SATURDAY - RESERVED SEATS RODEO AND FAIR TICKETS | Erika Garcia |
| SATURDAY - GENERAL ADMISSION RODEO AND FAIR TICKETS | Ralph Taylor |
| SATURDAY - GENERAL ADMISSION RODEO AND FAIR TICKETS | Talisha Moreno |
| SATURDAY - GENERAL ADMISSION RODEO AND FAIR TICKETS | Vanessa Dixon |
The Best Chicken Jokes From The Western Idaho Fair