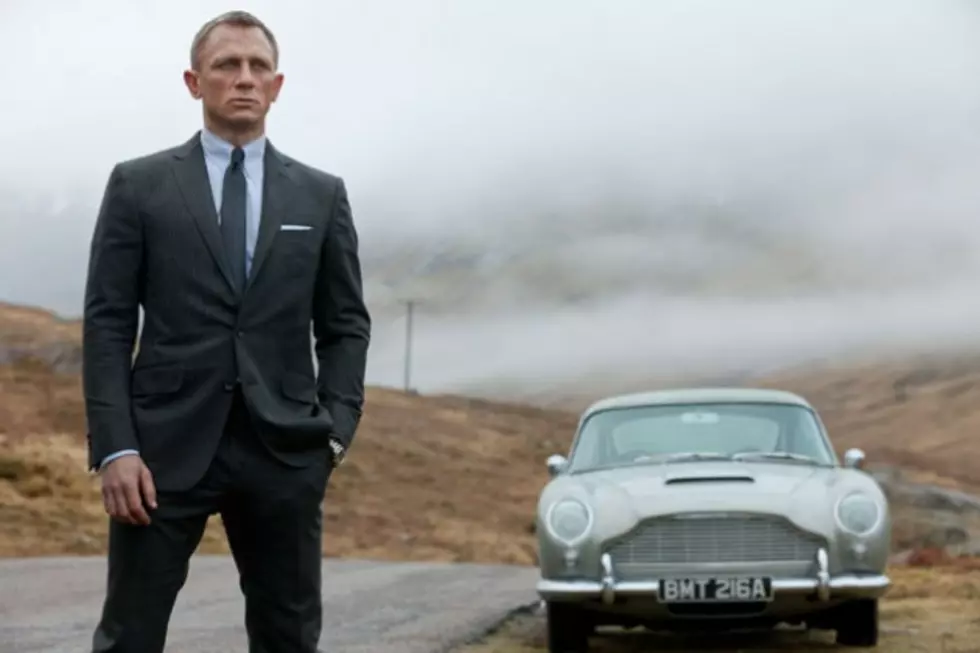 Weekend Box Office Report: Bond is Back on Top
Sony/MGM
There's no use beating around the bush here -- this was a pretty dull weekend at the box office. There was only one new release, but it was a dump that bombed rather spectacularly and the rest of the line-up is essentially the same as last week, with only a few titles shuffling around. It's the the quiet before the storm...the storm being 'The Hobbit: An Unexpected Journey,' which opens in a few days.
Film
Weekend
Per Screen
1
Skyfall
$11,000,000 (-33.6)
$3,234
$261,620,000
2
Rise of the Guardians
$10,540,000 (-21.3)
$2,896
$61,914,000
3
The Twilight Saga: Breaking Dawn Part 2
$9,200,000 (-47.2)
$2,523
$268,735,000
4
Lincoln
$9,115,000 (-31.9)
$4,526
$97,335,000
5
Life of Pi
$8,300,000 (-31.7)

$2,817
$60,918,000
6
Playing For Keeps
$6,000,000
$2,115
$6,000,000
7
Wreck-It Ralph
$4,904,000 (-29.4)
$1,786
$164,448,000
8
Red Dawn
$4,261,000 (-34.4)
$1,547
$37,265,000
9
Flight
$3,130,000 (-30.1)
$1,288
$86,202,000
10
Killing Them Softly
$2,748,000 (-59.7)
$1,134
$11,722,000
Let's start with the obvious: after a few weeks of hanging out behind 'The Twilight Saga: Breaking Dawn Part 2,' 'Skyfall' reclaimed the top spot with $11 million while the final adventure of Bella and Edward fell to slot three with $9.2 million. Only $10 million separates the two films and if the percentages are any indication, 007 has stronger legs and may very well outgross 'Twilight' in the coming weeks. Heck, it still has a shot at $300 million, which would be nearly double the previous box office record for a James Bond movie. Of course, stiff competition lurks in the weeks ahead, but 'Skyfall' has shattered franchise records and audiences love it (it's within spitting distance of $1 billion worldwide).
'Rise of the Guardians' actually leapt up a few spots to number two this weekend, which is interesting, to say the least. Although its $10 million weekend gross and its total haul of $61 million are poor by DreamWorks animation standards, the tiny percentage drop from last week is evidence that this movie may yet grow legs. Are families waiting until Christmas to see this one? Can it have a last-minute resurgence thanks to the holidays? This is worth keeping an eye on.
Down in spot number four, 'Lincoln' is holding strong and will cross the $100 million milestone in a few days. Awards buzz may even push it to $150 million. The fact that studios were so hesitant to make this movie for so long now sounds so very silly -- this is a bonafide hit, appealing to the same demographic that made 'Argo' a surprise blockbuster.
Meanwhile, the box office for 'Life of Pi' remains steady, but certainly not spectacular. With a current gross of $60 million, it's made enough to not look like a disaster, but it's still a long way from making its budget back. If there was stronger critical and/or Oscar buzz around it, maybe it would stand a chance of hanging on for awhile, but it'll be gone in a few weeks.
And in spot number six lies the week's only new release, 'Playing For Keeps,' which was dead on arrival. It only took Hollywood five years, but they finally have indisputable evidence that Gerard Butler is not a movie star. That $6 million opening proves that '300' was a long, long time ago.
There aren't too many surprises lurking about in the bottom four. 'Killing Them Softly' performed horribly and will be gone from its few remaining theaters as soon as possible, 'Red Dawn' continued to limp toward a barely respectable gross, 'Wreck-It Ralph' is ready to end its run far short of $200 million (which is a shame) and 'Flight,' against all odds, may somehow crack $100 million before the month is over.
Next week, 'The Hobbit: An Unexpected Journey' arrives. Expect something huge.
More From News Radio 1310 KLIX