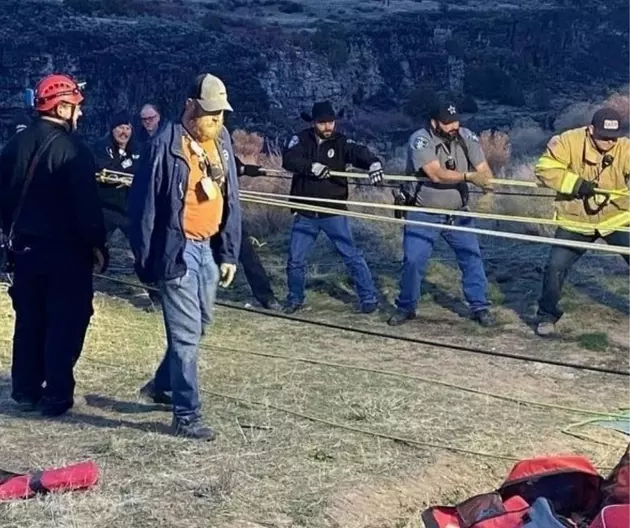 12 Year Old Twin Falls Girl Receives Award For Saving Her Dad
Twin Falls Sheriffs Office
The Twin Falls Sheriff's Office awarded a 12-year-old Twin Falls girl with the "Lifesaving Award" yesterday after she saved her dad who fell in the canyon. The girl climbed out of the canyon and directed officers to her injured father saving his life.
According to the Twin Falls Sheriff's Office, Hallie Wusinich was presented the award at Murtaugh Elementary School by the Rock Creek Fire Department Chief Aaron Zent. There were several other first responders at the presentation ceremony as well.
The Twin Falls Sheriff's Office said that Hallie's actions saved her dad's life after he fell nearly 100 feet into the canyon and was injured. Hallie climbed out of the canyon where her dad fell and called for help. According to the 9-1-1 dispatcher, Hallie was calm and was able to direct first responders exactly where they needed to be to help. Her father got the emergency help he needed because the helicopter was able to arrive quickly.
First responders also gave Hallie challenge coins from several departments which is a big deal. Civilians don't usually get challenge coins unless they have overcome something big. I would say saving a life and climbing out of a canyon to do so definitely qualifies as such.
What an amazing young lady and her father is healing. Congratulations are in order not only for Hallie but the parents who taught her how to handle difficult and stressful situations. I am in awe of you Hallie Wusinich.
Twin Falls Underground Tunnels
Strange Idaho Laws
Flying History: Maid in the Shade B-25J Bomber
More From News Radio 1310 KLIX