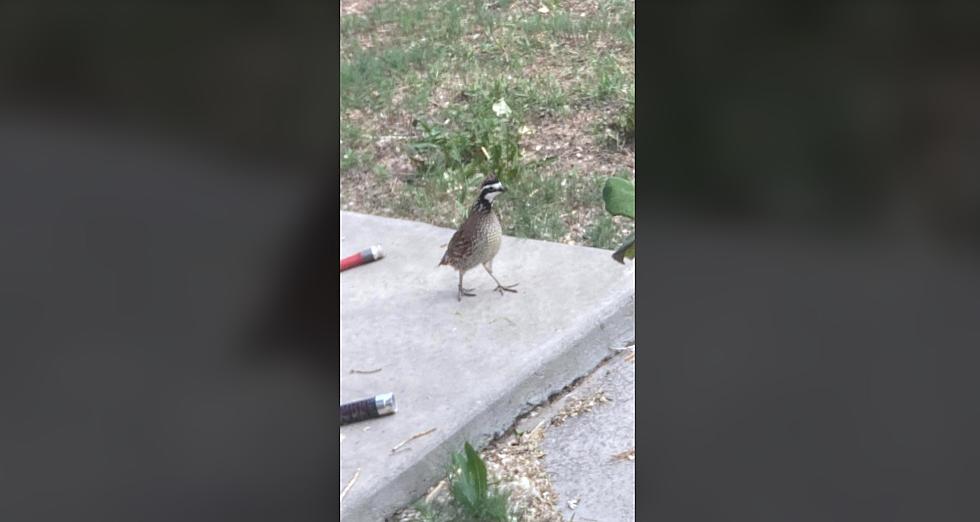 Rare Bird Spotted in Twin Falls County Backyard
Used with permission of Heather Stroup.
A friend had a surprise this week.  She lives a few miles south of Twin Falls.  A strange visitor was out her back door.  She took a picture, then recorded the bird's call.  When she played the callback, the bird came to the back door.  She later identified it as a Northern Bobwhite, which should be hanging around a backyard in the Magic Valley!
The bird's range is mostly the Mid-Atlantic, the Deep South, and the Mississippi River valley, however.  A map provided by Cornell University does show a small and isolated range that would cover the Yakima Valley, the Palouse, and possibly as far southeast as Payette, Idaho.  The question then becomes, how did it get here?
I posed that to Idaho Fish and Game.  Spokesman Terry Thompson consulted his coworkers at the Jerome regional office.  There appears to be a theory that someone locally may be raising the birds on a farm, and one took flight and did some sightseeing.
Who knows, with the wild weather patterns we've been seeing, maybe the bird caught a current and landed in Twin Falls County?  That's not a scientific conclusion.  I'm just speculating.
Northern Bobwhites like forested areas according to an entry I read online.  We don't provide much in the way of tall and thick stands of trees in the high desert.  This may explain why after a couple of days of hanging around a backyard, the bird left.  I know what some of you are thinking if some of the newcomers buying homes in your neighborhood would only do the same!
LOOK: Highest-rated free things to do in Idaho, according to Tripadvisor
More From News Radio 1310 KLIX