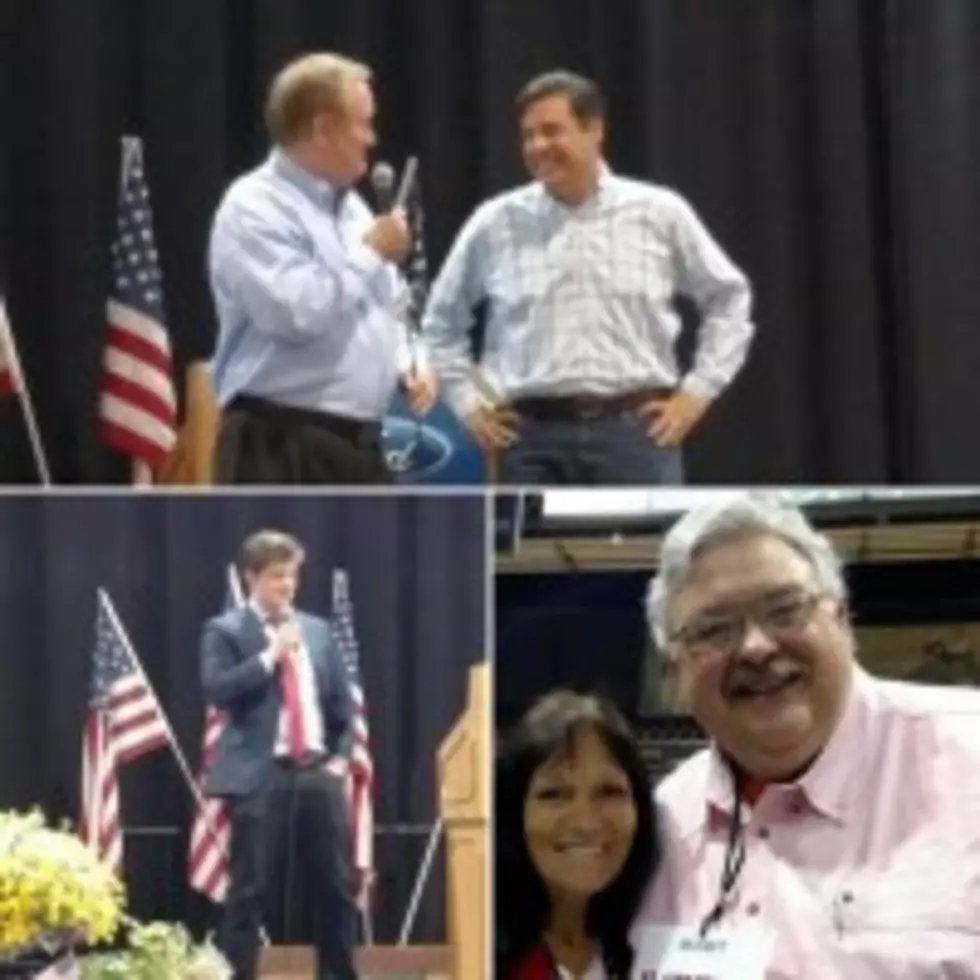 Witnessing Republican Sausage Making (Opinion)
Mike Crapo Raul Labrador top. Christy Zito, GOP candidate for House 23A with the author bottom right. Buck Sexton bottom left.
I suspect a lot of Democrats don't consider carbon dioxide a pollutant.  It appears to predate the arrival of man on the planet.  If Democrats don't demonize the gas then I guess most Republicans are the same.  On Friday I spoke with several Idaho GOP elders at the state party convention in Nampa.  They also aren't surprised much of the news media focused on CO2 after the platform committee on Thursday reiterated Republicans don't consider it air pollution.  The news folks want to go on portraying those "Crazy Republicans" as out of step with the rest of mankind and, yet.  These same party leaders agree we've got bigger fish to fry than making our views on climate change known to the world.
There is a great deal of party business packed into 3 days but also a great deal of enjoyment.  I know I'll get a little business for myself but I've got to mention the food.  The salad at lunch was to die for and had slivers of sliced green beans.  On Saturday the baked potato bar was like nothing I've ever seen before.  I skipped the ice cream but State Representative Lance Clow commended it for being very, very cold.  On Saturday the outdoor temperature was hovering near 100 degrees.
U.S. Representative Raul Labrador and U.S. Senator Mike Crapo addressed us during Saturday's lunch and stressed party unity at the national level.  Labrador explained Donald Trump was his 17th choice out of 17 original Republican candidates for President but now the Representative backs Trump.  Crapo shared times are so bad a socialist is running for President on the Democrat's side.  He then deadpanned, "and Bernie Sanders is also running".
Two years ago the convention ended early and abruptly as factions battled over language and party culture.  I've heard it described as an insurgency but I think factions is a better description.  Northern and Eastern Idaho are distinct factions from Central and Southern Idaho.  An insurgency implies attacks from somewhere out in the sagebrush.  Clearly there are people who left this weekend unhappy and believing we need a more radical approach.  At the moment it isn't the majority.  Perhaps we'll see a change in two to four years?  I'm a believer institutions change only during grave crisis.  War, depression and natural disasters are catalysts and for the moment the country is frustrated but the national pundits calling it a revolutionary moment are wrong.  There aren't any more demonstrators in the streets on the right and left than at any other time over the last 40 years.  There are just more cameras showing the angst among the extremists.
Speaking of cameras, there weren't many I could see in the convention hall.  If you got your news from TV and lived in the Nampa/Boise metropolitan area then you saw 30 seconds of video and a soundbite about unity.  The story was buried in B block after house fires and car accidents.  And maybe that's the message as simply as it's portrayed.  There weren't many shootouts beyond local primaries this year.  At the congressional level the candidates fended off gnats on Primary Day and face little serious opposition in November.
As a transplant from east of the Mississippi River I'm not arguing.  The people viewed as RINOs and establishment Republicans here are viewed a lot more like Barry Goldwater among eastern elites.  The claims of an old boy network running the show in Idaho seem silly.  I volunteered for the convention.  I met delegates who work in feed stores, on farms and have retired from insurance sales.  There's something to be said about most success in life being attributed to showing up.  From the perspective of a political junkie the convention was like a 3 day Christmas holiday!  Now it's on to November and hopes of vanquishing the Clinton Cartel and its media minions.
More From News Radio 1310 KLIX