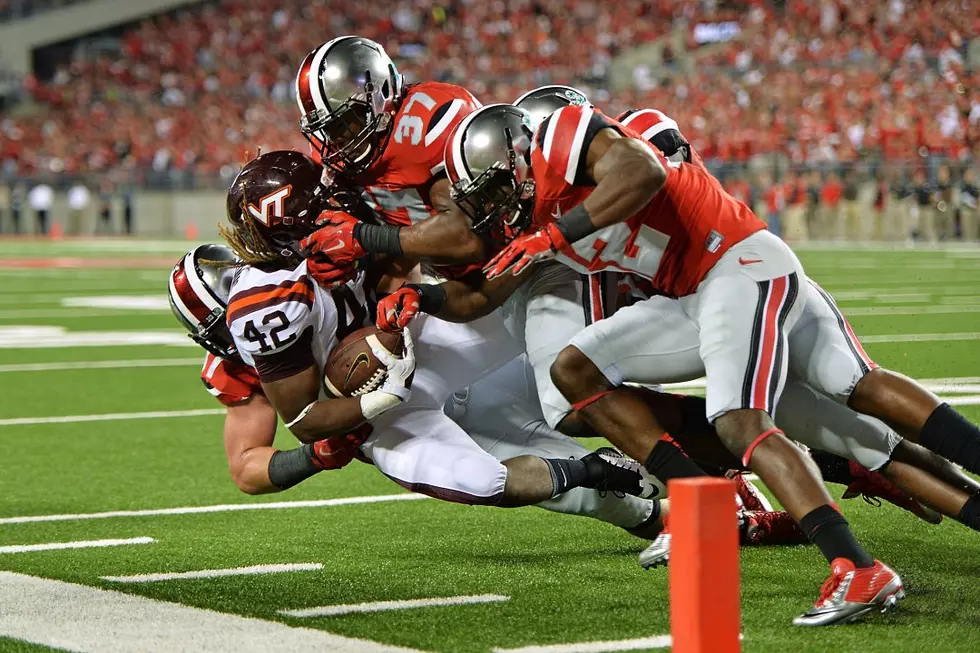 College Football Week 1 — Who Should Be on Upset Alert & Other Big Questions
Jamie Sabau/Getty Image
College football has once again returned to us, and not a moment too soon. Here are some of the big questions as we kick off the first weekend of the 2015 season.
Can Lightning Strike Twice for Virginia Tech?
Last year, the Hokies came into Columbus and pulled off one of the biggest upsets of the year by beating Ohio State, 35-21. In retrospect, it didn't impact the season much, as the Buckeyes then ran the table en route to the national championship. But both teams have had this year's rematch circled on their calendar for some time.
Last year's Virginia Tech offense was one of the worst in Frank Beamer's history, but should be helped by a year of experience and eight returning starters. The Hokies boast arguably the nations's best pass rush and a couple potential All-Americans at cornerback. But will that stout defense be able to stop the Buckeyes' high-powered offense? Ohio State comes into this game shorthanded: receiver Noah Brown was lost for the season with a broken leg, while All-American defensive end Joey Bosa and three others are suspended for violating team rules.
The atmosphere for this should be electric. With a Monday night game in Blacksburg against the defending champs, we're guessing the crowd will register on the Richter Scale when "Enter Sandman" kicks in.
Many people have already penciled in the end-of-season matchup between No. 2 TCU and No. 4 Baylor as a de facto play-in game for the playoffs. But TCU would be wise not to be looking too far ahead as they could face a stiff challenge in their opener Thursday night. Minnesota is no pushover. They've made steady progress under coach Jerry Kill, coming off another eight-win season in which they hung with Ohio State to the final minute.
To be fair, TCU had no problems with the Gophers in a 30-7 win last year. The Horned Frogs return 10 starters from the nation's second-highest scoring offense a year ago and it's possible this could turn into an early showcase game for Trevone Boykin's Heisman campaign. But on the other hand, Minnesota can run the ball and keep it out of TCU's hands. Combine that with a fired up crowd on a Thursday night and things could get interesting if TCU turns the ball over a couple of times. How big is this game? Minnesota has created its own version of Frogger you can play to help Goldy Gopher get past the Horned Frogs.
Can Nebraska Keep Its Record Streak Going?
Since losing 17-13 to Florida State to kick off the 1985 season, Nebraska has rolled off an NCAA-record 29 consecutive season-opening victories. To be fair, many of those have been small programs that didn't put up much of a fight. The Huskers have beaten an occasional ranked team in that stretch, though (No. 11 Florida State in 1986, No. 10 Texas A&M in 1988, No. 24 West Virginia in 1994, No. 24 Oklahoma State in 2003), and it's impressive just to have avoided an upset along the way. But the Cornhuskers will face their toughest test in recent years when BYU comes to town.
The Cougars have just lost one season opener since 2007, while knocking off the likes of Oklahoma, Ole Miss, Arizona and Washington. There are two big unknowns going into this game. First, how will the Cornhuskers fare under coach Mike Riley and his new schemes? And second, who — if anyone — will be suspended for BYU following the brawl in last year's Miami Beach Bowl?  BYU coach Bronco Mendenhall has, thus far, refused to announce if any players will miss any time. Any disciplinary action there will hurt the depth of a BYU squad already at a talent disadvantage.
Can Wisconsin Run on Alabama?
For the second year in a row, No. 20 Wisconsin opens with a neutral-site game against an SEC powerhouse. Last year, the Badgers fell to LSU, 28-24, and the task isn't any easier this year with No. 3 Alabama. First-year coach Paul Chryst will attempt to run the ball early and often, but Wisconsin will have to do it with a rebuilt offensive line and no more Melvin Gordon. If they can't establish a running game against Alabama's front seven, it could be a long day.
Quarterback Joel Stave completed less than 54 percent of his passes last year and threw more interceptions than touchdowns. Last year, Alabama came into the playoffs ranked second nationally in rush defense but gave up 281 on the ground to Ohio State. Wisconsin will need to study the Buckeyes' game plan to have any shot of pulling off the upset in the only game this week between ranked teams.
Ohio State's loss to Virginia Tech last year is the Buckeyes' only regular-season loss since 2011.
BYU quarterback Taysom Hill is a senior who also took two-and-a-half years off for his Mormon mission. In other words, the freshmen on the field were in seventh grade when Hill was already out of high school.
No. 4 Baylor returns 18 starters, including all five members of each line.
If you thought the Ohio State quarterback battle was intriguing, Alabama's pre-game depth chart lists three co-first-teamers with two number twos.
Oklahoma quarterback Baker Mayfield (below) originally walked on to Texas Tech and won the starting job, making him the first ever NCAA walk-on quarterback to start his first game. Now, he's transferred to Oklahoma, where he also walked on -- and he's done it again, beating out last year's starter Trevor Knight for the Sooners' starting job.
More From News Radio 1310 KLIX