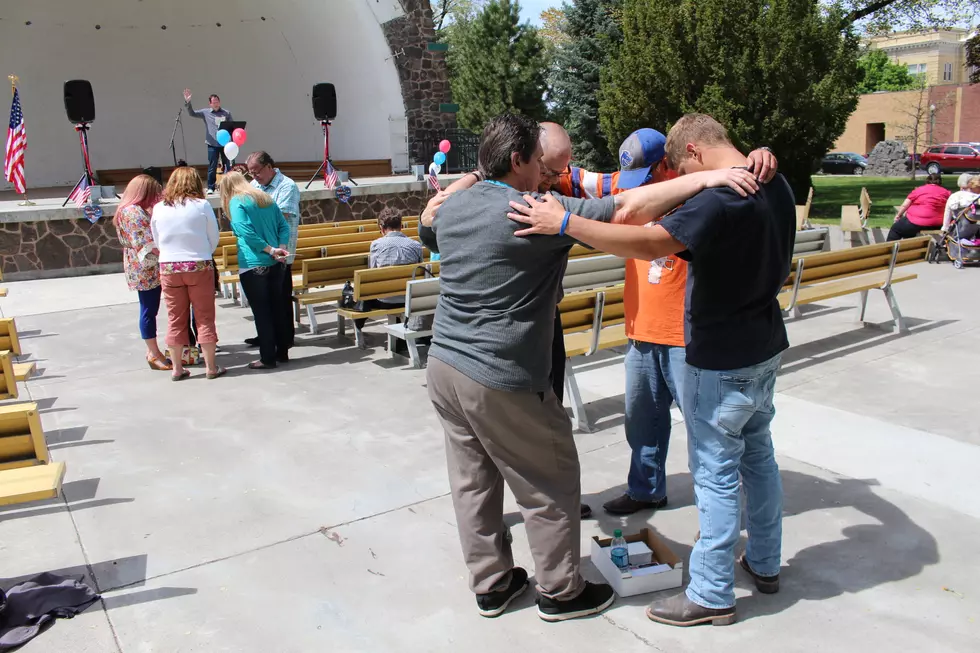 Community Members Gather for Prayer at City Park
Photos by Andrew Weeks
TWIN FALLS, Idaho (KLIX) – Prayer makes a difference. It can change lives and, sometimes, spark miracles. But to hear God's answer, you have to be in tune.
That was one of the messages of several given at a ceremony Thursday at City Park honoring the National Day of Prayer. More than 60 people came out for the hour-long service that included prayers for local and state government, members of the military and media, among others.
"It's so exciting to be a part of God's plan," said Elaine Proost, who helped organize the local event. There have been times in her life when she's felt God's inspiration to do something for someone else, she said, and at other times she was prompted to do nothing more than to say a prayer.
Proost and other community members held the group's first prayer event after the terrorist attacks in 2001 and have continued the ceremony every year since then.
Countrywide, National Day of Prayer was created more than 60 years ago. It was created by a joint resolution of the U.S. Congress, signed into law in 1952 by President Harry S. Truman, and promoted through a privately-funded task force. Among other things, it is to remind people of the need to repent of wrongdoing and turn their thoughts to God.
Repentance was one topic at the local ceremony. Prayer can be a springboard to help Christians examine themselves and improve, said Dave Mowry, lead pastor of Twin Falls Church of the Nazarene and one of the speakers at the event.
"It's hard to repent," he said. "It's hard to admit when we're wrong."
Proost, a member of Calvary Chapel in Buhl, said it's important to pray but also to be in tune to God's answers and obedient to his commandments and direction.
Jeremy Vines, pastor of Full Life Family Church, told the audience that prayer is one step in helping our country become a better place, but that Christians also have to demonstrate their prayers in their actions.
"Let us pray that the spirit of God can change us," he said.
Before the event closed, individual groups were formed to pray for specific agencies and institutions in the country, including businesses, education, churches and the family unit – "everything that makes a community," said Holly Borchardt, another organizer.
At the forefront of ceremony was the country's wellbeing.
"In light of everyone's fears with the political climate, Christians tend to be the most fearful," said Bryan Bacon, lead pastor The Church of Twin Falls. "Prayer is the absolute best and proper way to respond."
People need to not only attend church meetings, he said, but to "become the church" by their actions.
Proost said it's exciting to see members of many different religions come together in a unifying prayer event.
"As Christians this is one way to put ourselves out there," she said. "I love the community. I love seeing it come together and come to God."