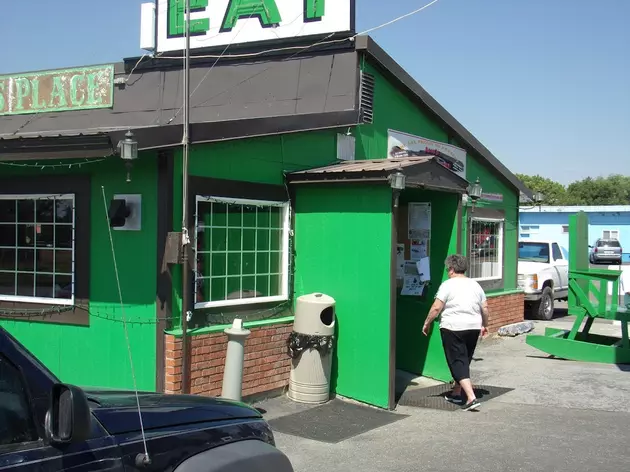 Idaho's Loudest Restaurant is on America's Longest Road
Picture by Bill Colley.
Not loud in a noisy sense.  It's the paint.  Driving into Arco from the east on Route 20 and heading west, how can you possibly miss Pickle's Place?  I was there one very hot summer day.  I had been driving for quite some time since I turned off Interstate 15 and as soon as I saw the green paint and oversized chair, I knew I had to drop in.  I found a table in the small dining room aside from the main eating area, sat down, and ordered lunch.
The Place is a Popular Stop for Visitors and Locals
Then the place began getting popular.  By the time I left, there wasn't another empty table.  There was a festival in town that day.  The Atomic Days parade had ended about half an hour earlier.  The crowd split into two.  Some wandered off to a picnic ground on the other side of town.  Others came to eat!
Dog B&B's and Spaceships
Idaho has a distinct smattering of strange roadside attractions.  Like a dog bed and breakfast in Cottonwood.  I had heard about the place from friends when suddenly I saw it while driving north in the panhandle.
Our state is filled with a lot of creative types with impish senses of humor.  The very same day I saw the dog I made my way into Wallace.  Home of space ships, silver mines, and bordellos!
Gas prices and cold weather have left me somewhat homebound in recent months but I really need to get back to some of these places.  An old college friend called those road trips attitude adjustments.
Largest House For Sale In Twin Falls
The house is listed on
Zillow for $949.900
and sits on a 2.5-acre lot. It has four bedrooms, three bathrooms, and 5,221 square feet of living space.
What Wild Animal In Idaho Would You Want As A Pet?
10 Idaho Animals You'd Want As A Pet
More From News Radio 1310 KLIX