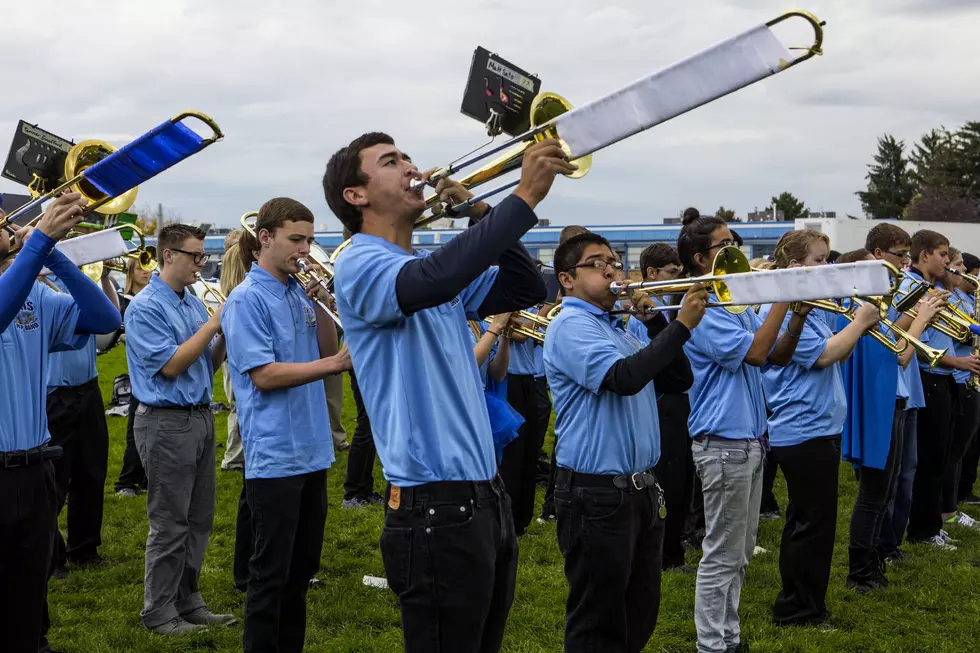 Of Footballs and Cow Patties: High Schools Prep for Service Bowl
Photo courtesy of the Twin Falls School District
TWIN FALLS, Idaho (KLIX) – You can pick your cow, but you can't pick your patty.
Two cows – and the community's two high schools, of course – will face off on Friday for the seventh annual Service Bowl and Cow Pie Challenge at Canyon Ridge High School.
It's promised to be a fun event, says Linda Watkins, executive director of the Twin Falls School District Education Foundation. Besides football, camaraderie and cash prizes, the event serves as a food drive.
Two pickup trucks, one representing each school and donated for the event by Lithia Motors, will collect canned food from visitors. Student leaders from the high schools will decide next week where they'll donate the collected food, Watkins said. Whichever school collects the most food will be given $500. But even the second-place school comes out ahead; it will receive $250.
You don't have to wait for Friday night to donate food, however. One pickup truck is parked at each school and is accepting donations now.
"It's a really neat event. It's a lot of fun," she said. "Everything we raise goes back to the schools."
Some lucky individual also may win $500 in cash and another $500 in gift cards, but that depends if the person selects the right square in which a cow will make its pie. The football field will be painted in a grid pattern.
Students have a lot of fun preparing for the event, Watkins said. They name their school's cow, they collect food for a worthy cause, and visitors in each school's section tries to show more class spirit than the opposing team. Whoever is deemed to have the most school spirit will receive a glass-encased cow bell.
Both high school bands also will perform a medley on the field honoring members of the military. The fun and games, which start a little after the gates open at 5 p.m. Friday, is just the teaser for the Service Bowl, which starts at 7 p.m.
"It's a lot of fun for the kids. It is fun for a lot of people," Watkins said, noting that on Thursday afternoon there was still some 250 tickets available. For tickets, contact the district, Canyon Ridge or Twin Falls High.
The night's events won't be complete, however, without, um … pie.
Visitors will be able to have their own slice of pie – "an edible slice," she said. "Not everything at the event will be a cow pie."
More From News Radio 1310 KLIX