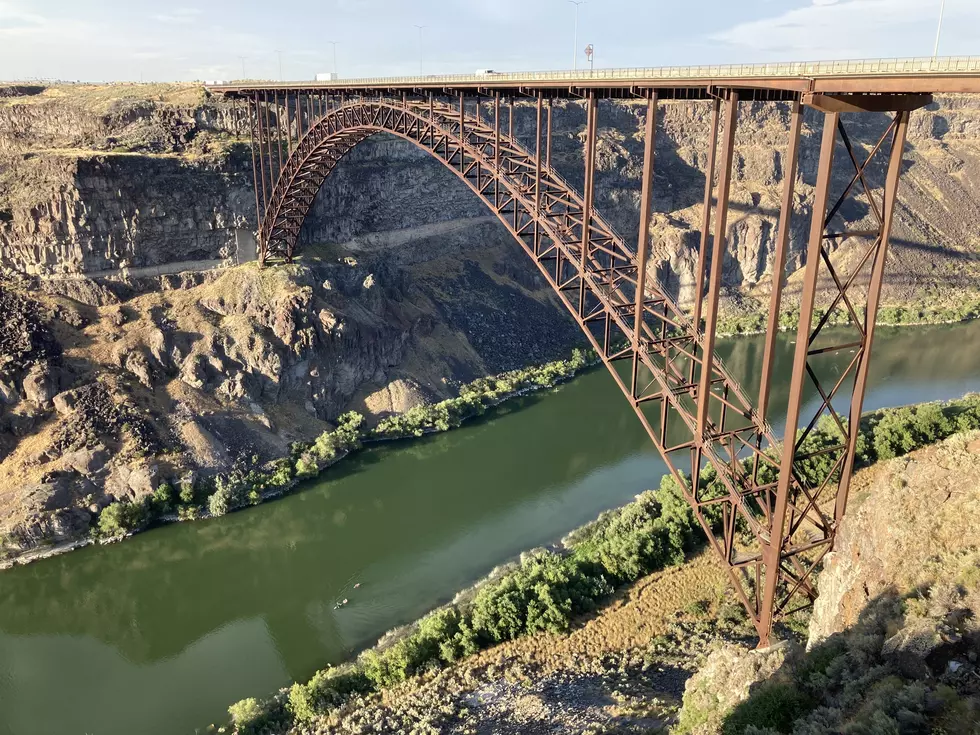 Perrine Bridge Inspection to Cause Delays
Benito Baeza
TWIN FALLS, Idaho (KLIX)-Work on the Perrine Bridge will cause traffic delays in the next couple weeks. The Idaho Transportation Department announce work on cleaning and inspection will start on Sunday September 11 and continue for about two weeks at various times until September 22. Most cleaning of the topside of the bridge will start on the evening of Sept. 11 from 9 p.m. to 6 a.m. All traffic will be moved to a single lane in both directions while crews work. Cleaning should be done by Thursday Sept. 15. On Monday Sept. 19 crews will then inspect the bridge on the northbound side from 9 a.m. to 2 p.m. with the right lane closed to traffic. ITD crews will use the state's specialized bridge inspection truck that allows the underside of the structure to be looked at. On Wednesday the southbound right lane will be closed from 9 a.m. to 2 p.m. There will be times when both lanes will be closed for about 15 minutes. ITD said the schedule could change, but recommended drivers find an alternate route during the inspection times if they can. "The Perrine Bridge is a vital structure in the region and serves as a connector for thousands of motorists each day," ITD Bridge Inspector Amy Bower said. "Inspections and routine maintenance projects play an important role in ensuring the bridge's longevity for many years to come." Pedestrian access will be limited at times as well.
PICS: See Inside the Historic Texas Ranch Where the New 'Yellowstone: 6666' Spinoff Is Filmed
The massive, historic Texas ranch where the new Yellowstone spinoff Yellowstone: 6666 is filming has sold for just under $200 million, and pictures show a property that is truly part of Texas history.
The 6666 Ranch — better-known as the Four Sixes Ranch — in Guthrie, Texas, dates back to 1870. The ranch centers around a 13-bedroom, 13-bathroom, 13,280-square-foot main residence, which is constructed of quarry rock that was hauled to Guthrie by wagon. The ranch also includes vast, sweeping fenced pastures, farmland, fenced-in pens for cattle, a more recent addition for horses, a water filtration plant that serves the ranch's water needs and more.
There are separate camp manager's homes in both the North Camp and the South Camp of the ranch, which encompasses nearly 225 square miles of land. Yellowstone creator Taylor Sheridan is part of a group of investors who recently acquired the property for $192 million, and he has been shooting his new show out there in recent months.
More From News Radio 1310 KLIX