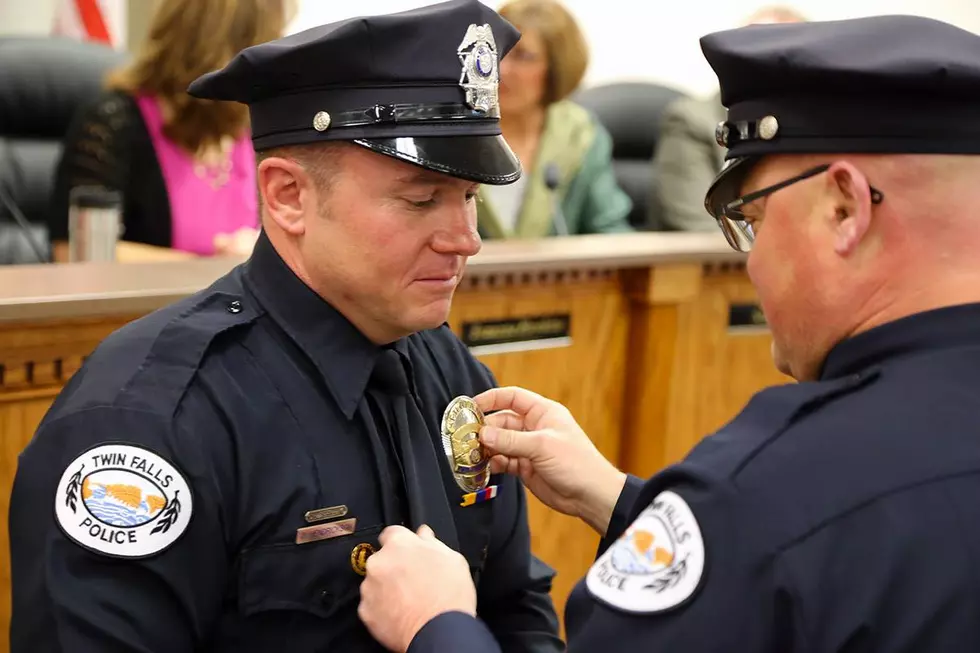 Twin Falls Police Officers Honored at City Council Meeting
Officer Justin Hendrickson was promoted to the rank of sergeant at the City Council meeting Monday night. (Photo courtesy City of Twin Falls)
TWIN FALLS, Idaho (KLIX) – The City of Twin Falls honored several police officers at Monday night's City Council meeting, including promoting one officer to the rank of sergeant.
Officers Matthew Guzman, Tyler Smotherman, Kyle Skuza, Ben Hammer and Staff Sgt. Chuck Garner each received Peace Officer Standards and Training Council certificates. Each officer had to complete certain requirements under the program that includes basic, intermediate and advanced certification.
For Guzman and Smotherman, who received Basic certificates, each had to complete the Twin Falls Police Department's Field Training Program and serve as officers in Idaho. Hammer and Skuza, who received Intermediate certificates, had to complete training and earn several college credits; and Garner, who has served as a law enforcement officer in the Gem State for more than 18 years, completed requirements for the Advanced certificate, including earning several college credits.
The Council Chambers was packed with family members and fellow police officers as the honors were given. A short biography of each officer was read, and Mayor Shawn Barigar, who congratulated each recipient with a handshake, awarded the officers their certificate.
"I noticed that four of the five officers attended CSI," said Councilman Don Hall. "Go Eagles!"
After the presentations, Officer Justin Hendrickson, who was hired by the Twin Falls Police Department in January 2003 and who received advanced certification in 2014, was promoted to the rank of sergeant.
Police Chief Craig Kingsbury did the honors, replacing Hendrickson's officer badge with his new sergeant badge as Hendrickson's wife, Keisha, stood next to him. In a traditional ceremony afterward, officers in attendance approached Hendrickson and gave him their "chevrons" – officer stripes for him to sew onto his uniform.
Kingsbury said that in the police department "we all are family."
More From News Radio 1310 KLIX