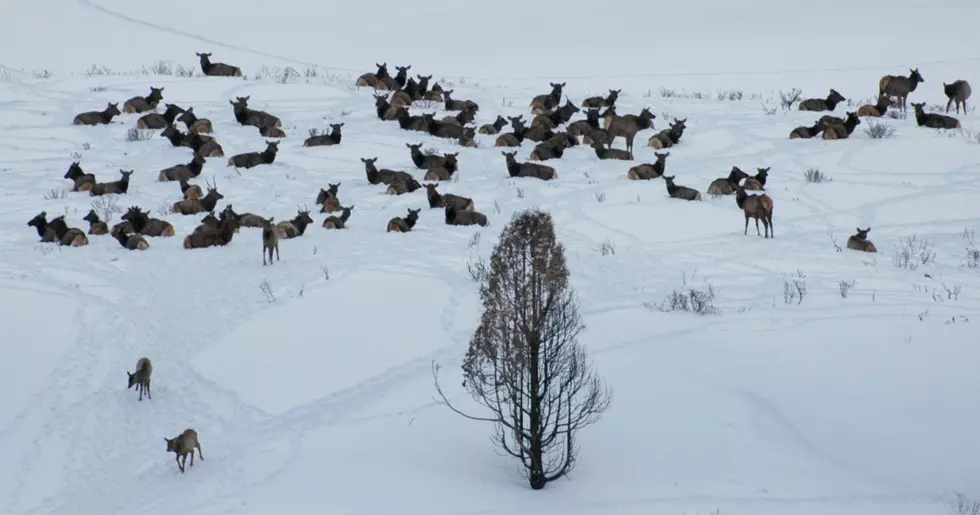 Two Dogs Killed While Attacking Elk in East Idaho
File Photo courtesy Idaho Department of Fish and Game.
CHUBBUCK, Idaho (KLIX)-An Idaho conservation officer kill two dogs that had attacked young elk in Eastern Idaho during the weekend. According to the Idaho Department of Fish and Game, the officer had been called out for a report of dogs attacking a group of elk near Chubbuck. An elk calf had already been attacked and killed by the dogs that were in the process of attacking another young elk when the officer arrived.
Idaho Fish and Game Officer Had to Act Fast to Stop Dog Attack on Elk
Idaho Fish and Game said the officer had to react to the situation fast and killed the dogs to stop the attack. "We really wish there was a different outcome here, but our officer had to react immediately to this situation." said Jennifer Jackson, Southeast Regional Communication Manager in a prepared statement. "There were many other elk in the area, including more calves." The owner of the dogs was informed of what happened. The second calf attacked later died.
Illegal for Dogs to Harass Wildlife
In Idaho it is illegal for dogs to harass wildlife and owners could face citations. Dogs are expected to be kept on a leash and not allowed to roam free around wintering wildlife and large game like elk and deer. Idaho Fish and Game said the large game are trying to conserve as much energy as they can during the cold winter months to survive. Wildlife in Eastern Idaho have had to deal with deep snow and recent long cold periods.
Beautiful and Dangerous Ice In Snake River Canyon
During the winter there are massive icicles, or the kids called them frozen waterfalls, all along the wall. The ice is beautiful and extremely dangerous.
More From News Radio 1310 KLIX